Roland V-Drums Acoustic Design VAD306 Electronic Drum Set
Blends the look and response of a traditional kit with groundbreaking V-Drums electronics
Makes a strong impression onstage or in the studio
Shallow wood shells outfitted with Roland's legendary tunable mesh heads
Multi-zone V-Cymbals serve up lifelike expression and dynamics
Powerful TD-17 drum module gives you 50 full drum sets and 310 drum sounds
Prismatic Sound Modeling technology lets you tune, muffle, size, and process any piece in your kit
Space-Saving Kit with Shallow-Depth Shells and TD-17 Module
The VAD306 is a unique V-Drums Acoustic Design kit, purposefully compact while maintaining the distinctive acoustic aesthetic of the series. The footprint is the same as a mid-level V-Drums set, making it ideal for home use and tight stages. Cutdown shallow shells save space and weight—but from the playing position, they feel instantly familiar to any drummer. Double-braced stands with tom mounts and cymbal boom arms complete the layout and further enhance the acoustic theme. And with its organic, expressive sound, the TD-17 module provides all the acoustic tone and playability you could ask for, whether drumming for yourself at home or out gigging on the local bar circuit.
Introducing V-Drums Acoustic Design
V-Drums Acoustic Design is a brand-new V-Drums experience, blending the physical presence of acoustic drums with Roland's world-leading digital percussion technology.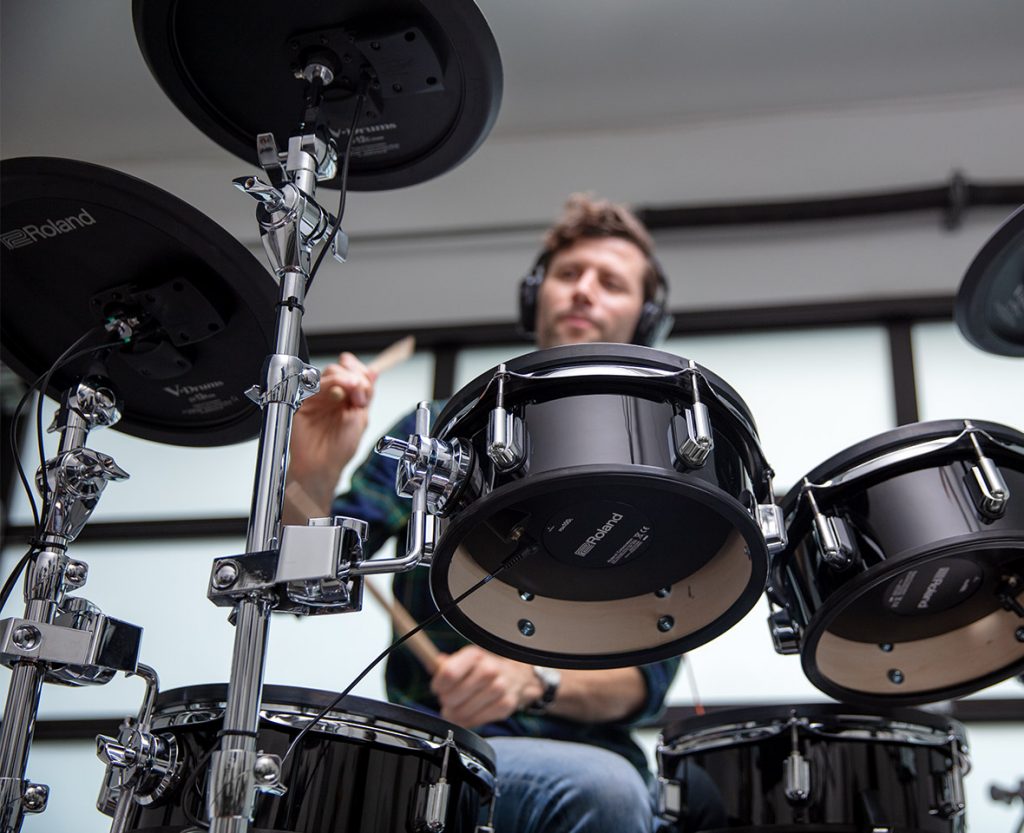 Powerful Sound and Realistic Expression
The heart of the VAD306 is the TD-17 module, filled with sounds derived from the acclaimed TD-50 sound engine. It features a vast collection of vintage and modern drums, cymbals, and percussion, all sampled in ultra-high audio detail with every possible velocity and head strike captured. Roland's unique Prismatic Sound Modeling is then married with these samples to deliver complex, true-to-life tonal range and smooth dynamic transitions between hits. The result is an experience that doesn't just sound faithfully acoustic—it behaves acoustically too.
Create (and Craft) Your Signature Drum Kit
The TD-17 module features a wide range of ready-to-play kits, including 10 new acoustic-focused presets created for the VAD306. While the preset kits sound fantastic, it's easy to dive deeper and build your ultimate drum setup with intuitive editing tools. Think of the module as a huge warehouse of drums and cymbals from different eras, which you can mix and match in any combination. After that, swap the heads, change the tuning, add muffling, and even change the virtual space you're playing in. Take things even further by loading your own samples and combining them with onboard instruments, crafting personalized kits that no other drummer can claim.
Larger Pads and a Wider Playing Spread
Acoustic drums are usually bigger than electronic drum pads. The size of each drum adds to the overall experience, not just visually but also in stick feel and physical layout. Which is why the VAD306 features a 12″ snare and floor tom, two 10″ rack toms, and an 18″ kick, creating a naturally wide playing spread. The shells are made of wood too, enhancing the authentic acoustic feel under the sticks and beater.
The Natural Feel of Acoustic Drums
Roland's legendary multi-ply, tension-adjustable mesh heads contribute significantly to the authentic playing feel, giving you stick rebound that's customizable for your individual playing style. And when you bury the beater into the specially designed kick drum, you physically move air inside the shell, creating air pressure and resistance that feels remarkably like playing an acoustic kick.
Shallow Shells, Deeper Performance
While the shallow-depth tom and kick shells in the VAD306 kit save space and weight, they don't scrimp on performance. Each drum features custom sensors engineered to provide natural response and premium feel in an amazingly compact size.
Double-Braced Chrome Drum Stands
The way acoustic drums and cymbals are mounted not only projects a classic image—it also influences the playing feel. The tom pads mount on the same stands used for acoustic toms—so they feel just right when they're hit. And every stand is double-braced for rock-solid stability, and easily adjusted to suit your preferred layout.
Powerful Practice Tools and Bluetooth Connectivity
The TD-17 module is packed with practice features to help you become a better drummer. Built-in Bluetooth allows smartphones and laptops to stream audio to the module without a cable, perfect for immersive jam sessions with headphones. Play along with favorite music tracks or mix the sound from a YouTube lesson video with the kit. It's also possible to play songs direct from an SD card and record your playing at any time. Onboard coach functions help you focus on skill-building, and even track your progress over time. And the metronome can be set for different time signatures and note values, helping improve your inner clock.
Roland V-Drums Acoustic Design VAD306 Electronic Drum Set Features
Blends the look and response of a traditional kit with groundbreaking V-Drums electronics
Makes a strong impression onstage or in the studio
Shallow wood shells outfitted with Roland's legendary tunable mesh heads
Multi-zone V-Cymbals serve up lifelike expression and dynamics
Powerful TD-17 drum module gives you 50 full drum sets and 310 drum sounds
Prismatic Sound Modeling technology lets you tune, muffle, size, and process any piece in your kit
Specification:
Roland V-Drums Acoustic Design VAD306 Electronic Drum Set
General
| | |
| --- | --- |
| Brand | Roland |
| Item model number | VAD306 |
Specification
| | |
| --- | --- |
| Hybrid Acoustic/Electric | Yes |
| Total Number of Pads | 4 x cymbal pads, 5 x drum pads |
| Included Snare/Tom Pads | 1 x 12" PDA120L Tom, 12" PDA120LS Snare, 2 x 10" PDA100L Toms |
| Included Kick Pads | KD-180L Kick Drum |
| Included Cymbal Pads | 1 x 13" CY-13R Ride, 2 x 12" CY-12C Crash, VH-10 Hi-hat |
| Included Drum Module | TD-17 Drum Module |
| Number of Drum Kits | 50 Preset, 50 User |
| Number of Instruments | 310 Instruments |
| Effects | 3-band EQ, 30 x Multi-effect, Ambience, Muffling, Snare Buzz, Strainer, Tuning |
| Module Trigger Inputs | 1 x DB-25, 2 x 1/4" (crash 2, aux) |
| Module Analog Inputs | 1 x 1/8" (mix in) |
| Module Analog Outputs | 2 x 1/4" (master out) |
| Headphones | 1 x 1/4" |
| Module MIDI I/O | Out/USB/Bluetooth |
| Shells Included | 1 x Bass Drum, 1 x Snare, 3 x Rack Toms |
| USB | 1 x Type B (stereo in/out) |
| Storage | SD/SDHC card slot (up to 32GB) |
| Other I/O | Bluetooth 4.2 (audio streaming/MIDI) |
| Included Hardware | 1 x APC-30 Clamp, 3 x DCS-10 Stands |

Roland V-Drums Acoustic Design VAD306 Electronic Drum Set