Roland TD-1DMK Electronic V-Drums
Real tunable V-Drums at an impressive price
Includes 15 of Roland's latest preset drum kits
Dual-layer mesh pads tune up and down for a custom playing experience
Dual-trigger pads offer realistic rim and head articulations
Wide kick pad won't move as you play and accommodates double-bass pedals
Cymbals swing and sway for added expression
10 interactive exercises for building chops and grooves
15 play-along songs and a metronome maximize your practice hours
1/8″ auxiliary input lets you rock out to your own music library
USB MIDI drives your virtual drum libraries
Compact, easy-to-store footprint
Rack-style adjustable stand is rock solid and fast to set up
The Roland V-Drums TD-1DMK is an electronic drum set with legendary Roland quality and durability, as well as double-mesh head pads for quiet drumming with great playing feel.
Roland TD-1DMK provides a fulfilling drumming experience in a compact kit that's easy to move around. The simple-yet-powerful module includes a variety of expressive drum kits, connected to Roland's renowned dual-mesh pads for snare and toms which match the feel of playing on acoustic drums but without the noise* – great for late-night practice sessions. You can play with headphones too, so you won't disturb family or neighbors, and with onboard coach functions and the ability to connect to Melodics drum training software, you'll be surprised how quickly you'll improve. Pick up the sticks, take a deep breath and pull up to the TD-1DMK.
Features of Roland TD-1DMK Electronic V-Drums
Dual-ply mesh heads with tension adjustability for a quiet and realistic drumming experience
256 notes of polyphony
15 preset drum kits with authentic, expressive drum sounds for accurate and true-to-life drumming
Built-in metronome with adjustable tempo and timing settings to help improve timing
10 onboard coaching functions for tracking your progress and motivation to play
Record function lets you listen back to what you just played, for evaluation purposes
15 onboard songs to play along with, covering a variety of music genres
Legendary Roland quality and durability – built to support your drumming for years to come
Introducing the V-Drums TD-1DMK
The V-Drums TD-1DMK is an electronic drum set with legendary Roland quality and durability, as well as double-mesh head pads for quiet drumming with great playing feel.
Start Drumming … No Matter What Your Age
With a variety of true-to-life drum kit sounds and the tonal changes you'd expect from acoustic drums, the V-Drums TD-1DMK provides the best platform to kick-start your drumming – especially with onboard drumming tools that help you improve.
Provide the Best Foundation to Encourage Your Child's Drumming
The quality of drum kit that a child plays as they learn will make the difference between enjoyment and motivation or becoming last year's hobby. The TD-1DMK is quieter than many other electronic drums too, so you can encourage your child to play without needing ear defenders.
Become a Better Drummer
With all double-mesh heads for superior stick resistance, natural rebound and true-to-life tonal changes and expression, the TD-1DMK is the perfect partner for any drum student serious about taking their drumming to the next level
If You Used to Play … It's Time to Come Back
If you used to play drums, you'll appreciate how good it feels to nail that beat and play along to your favourite songs. Simply connect your smartphone to the V-Drums TD-1DMK and play and, if you need to brush up your skills, use the on-board coach function or Melodics app to get that beat back.
Connect to Interactive Apps for Learning
There's no substitute for a great drum teacher when learning drums, but motivation to practice and maintaining focus outside of lessons is key to improving your drumming skills.
Melodics for V-Drums offers step-by-step, interactive play-along lessons, with free courses for V-Drums players.
For Beginners – Start Playing Drums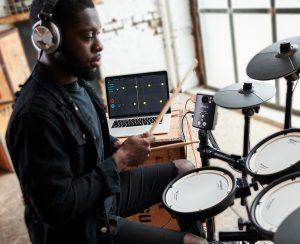 If you've haven't played drums before, you might think it'll be too difficult, or that learning on an electronic kit is complicated. The TD-1DMK is a hassle-free drum kit that's easy to set up and intuitive to use. Just connect the power, switch on and connect either your headphones or monitor speakers. You're ready to start playing an authentic-sounding collection of drums, with a choice of 15 preset kits, for a realistic and engaging drumming experience. And when it's time to start working on your drum skills, onboard coach functions and Melodics for V-Drums software let you learn the essentials and quickly start climbing the ladder. It's easy to move around in your home too, so whether you're playing solo or want to perform for your friends and family, the TD-1DMK can go wherever you play.
For Parents – Help Develop Your Child's Sense of Rhythm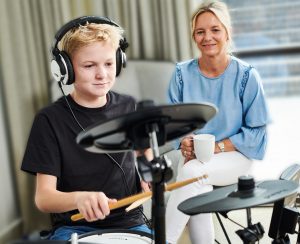 When your child learns a musical instrument, they also learn about life. Along with discipline and determination, the sheer enjoyment they'll get when playing drums is priceless. Developing accurate timing and keeping a solid beat are fundamental elements of drumming, and the TD-1 module's onboard metronome and 10 coach functions show your child how their timing skills are improving. The game-like experience of the coaching functions means that although they're learning, every session is fun and engaging. Melodics for V-Drums, a free application for Windows or Mac computers, provides a series of free drum lessons that help develop a sense of rhythm without it seeming like hard work.
The TD-1DMK's pads are quieter than other electronic drums too, so your child can practice without limitation. From durable dual-ply mesh heads to a kick drum pad that absorbs the impact of a beater, all V-Drums are built to be noticeably quieter when played*. The TD-1DMK can continuously support your child as they develop the concentration, patience and physical strength that comes through regular playing.
*Depending on the room and surface on which the TD-1DMK is played, additional noise damping from Roland NE-10 Noise Eaters may be required
For Students – Become a Better Drummer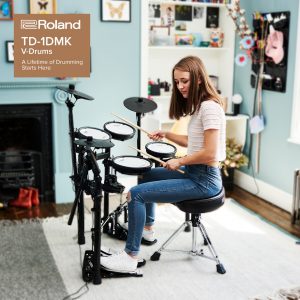 Whether you want to be a drum hero in a band or you just want to develop solid drumming skills, the TD-1DMK helps you get there by supporting the techniques learned in your tuition. The TD-1DMK faithfully responds to the subtle nuances of your playing – with every stick hit and all the dynamics detected and faithfully relayed, thanks to the fast processing and authentic acoustic sounds of the TD-1 module. And as you improve, the TD-1 module can keep up with you, reflecting your superior technique and expression. The dual-layer mesh heads for the snare and toms can be tension-adjusted and offer stronger stick resistance compared with other mesh heads, giving natural rebound and feel that's as close as possible to the feel of playing acoustic drum heads. Kick pedal feel and rebound is also important for your drumming – so the TD-1DMK is compatible with your choice of kick pedal, including double-kick pedals, while the soft rubber pad absorbs the energy from the beater, for a natural feel, faithful rebound and quieter performance.
If You Used to Play Drums, It's Time to Come Back
If you used to play drums, you'll remember how good it felt – whether the sheer physicality and expression of playing alone, or the enjoyment of collaborating with other musicians and nailing a song together. The TD-1DMK can help bring drums back into your life, whether you're brushing up your skills or picking up where you left off. From onboard songs across a variety of genres, to connecting your smartphone to the module and playing along to your favorite tracks, the TD-1DMK lets you play along with music while you smooth out those rough edges. And if those edges are a little too rough, the quiet performance of the TD-1DMK and the option to use headphones lets you immerse yourself in the music without disturbing your family. The durable TD-1DMK is infused with legendary V-Drums reliability too, so you can play with confidence for years to come. And as your skills and ambitions grow, you can expand the TD-1DMK by adding an extra crash cymbal or even upgrading the sound module. Give yourself a break – start playing drums again with the TD-1DMK.
Specification:
Roland TD-1DMK Electronic V-Drums
General
Specification
| | |
| --- | --- |
| Total Number of Pads | 3 x cymbal pad, 5 x drum pads |
| Included Snare/Tom Pads | 3 x PDX-6A 6" Mesh Toms, PDX-8 8" Mesh Dual Trigger Snare |
| Included Kick Pads | Kick Pad |
| Included Cymbal Pads | C-5 10" Dual Trigger Crash, CY-5 10" Dual Trigger Ride, CY-5 10" Hi-hat |
| Included Drum Module | TD-1 |
| Number of Drum Kits | 15 Virtual Sets |
| Module Trigger Inputs | 1 x DB-25 |
| Module Analog Inputs | 1 x 1/8" (mix in) |
| Headphones | 1 x 1/8" (headphones/out) |
| Module MIDI I/O | USB |
| USB | 1 x Type B |
| Included Hardware | 4-post Rack Stand, Hi-hat Pedal |
Roland TD-1DMK Electronic V-Drums