Roland TD-17KVX V-Drums Electronic Drum Set
Features of Roland TD-17KVX V-Drums
Sounds, pads, and features inspired by Roland's top-level V-Drums
50 kits + 310 drum/percussion sounds inspired by the flagship TD-50
Tunable mesh pads deliver a custom playing response
Weight-optimized cymbals swing and sway like the real thing
12″ PDX-12 snare pad is a smooth transition from acoustic snares
10″ VH-10 hi-hat mounts to your favorite stand for authentic pumps and splashes
KD-10 kick pad is stable and dynamic
Importable drum samples via SD/HC card (not included); can be saved to 50 user kits
Virtual tuning, muffling, strainer tension, and snare buzz
Adjustable reverb, compression, and EQ per pad
Global bass and treble controls
Onboard Bluetooth 4.2 transceiver — streams music from your phone or sends MIDI data out
MIDI over USB and 5-pin output — trigger virtual instruments within your DAW
Audio over USB — capture pre-mixed audio for song building and safekeeping
Multi-pin cable harness included — inputs for Kick, Snare, Tom1, Tom2, Tom3, Hi-Hat, Crash1, Ride, Ride Bell, and Hi-Hat Control
Two additional 1/4″ dual-trigger inputs — inputs for Crash2 and Aux
Includes MDS-Compact drum stand with cymbal booms and snare/tom clamps
BECOME A BETTER DRUMMER, FASTER WITH ROLAND TD-17KVX V-DRUMS
Sounds, pads, and features inspired by the toast of Roland's V-Drums collection position the value-packed TD-17KVX electronic drum kit squarely in pro territory. At the heart of this kit is the TD-17 module, with a sound engine and 50 preset drum kits built around Roland's flagship TD-50. User-importable drum sounds take advantage of your ever-expanding sound libraries. And wireless Bluetooth support for music and MIDI streamline practice, jamming, and song building. New for the Roland TD-17KVX V-Drums are the 12″ dual-trigger PDX-12 snare pad with two-ply tunable mesh head, floating VH-10 stand-mount hi-hat, and dynamic KD-10 kick tower. A trio of mesh-headed 8″ toms, two 12″ crashes, and Roland's three-zone 13″ CY-13R ride complete the package.
Roland TD-17 Sound Module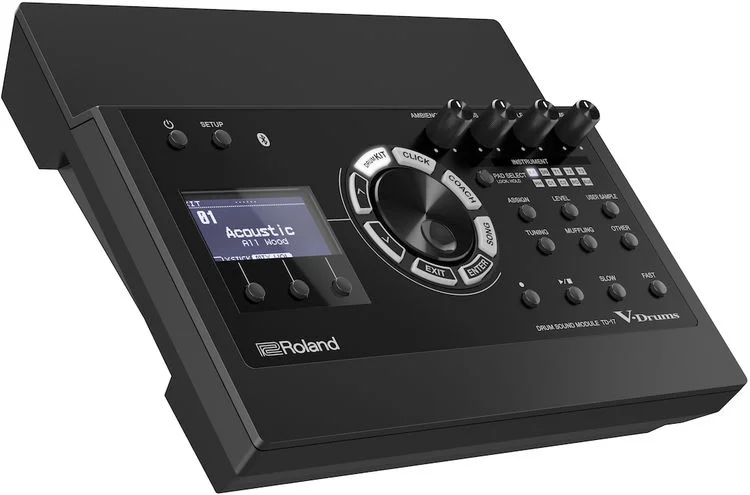 Sounds and FX engine based on Roland's flagship TD-50
Fifty preset kits and 310 drum/percussion sounds inspired by the V-Drums TD-50 equip the Roland TD-17 sound module for virtually any style, from world music to EDM and metal. User sounds can be imported as WAV files via SD/HC card — a first for a V-Drums module at this level — and saved to any of 50 user kits, as well as blended with stock kits and further edited using the TD-17's powerful processing and effects engine, which includes virtual tuning and muffling, virtual snare tension, compression, EQ, reverb, and more.
Stream songs and MIDI over Bluetooth
An onboard Bluetooth 4.2 transceiver gives the TD-17 the edge for practice and recording. Stream music from your phone to the module wirelessly, and play along to your heart's content. When you're ready to bottle that inspiration, the Roland TD-17 also features MIDI over Bluetooth to send MIDI note values out to a compatible device. Audio/MIDI over USB and a traditional 5-pin MIDI output are also available.
Additional trigger inputs grow with your kit
In addition to accepting the included multi-pin cable harness, the Roland TD-17 module sports two additional 1/4″ dual-trigger inputs for an additional crash and auxiliary pad as your needs grow.
What's New in the TD-17KVX?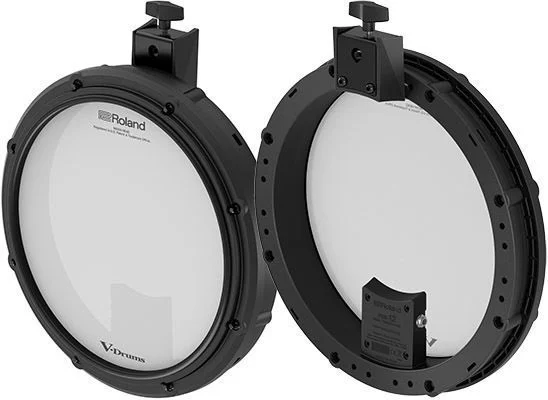 PDX-12 snare pad
The dual-trigger 12″ PDX-12 facilitates lifelike snare performance — realistic buzz rolls and rimshots — without altering the way you play. Its 12″ size makes a smooth transition from kit-sized snares. And its tunable two-ply mesh head lets players tweak how much rebound they prefer, from soft and pillowy to tight and precise. All in all, the Roland TD-17KVX electronic drum kit lets you tailor your snare sound like a boss.
KD-10 kick pad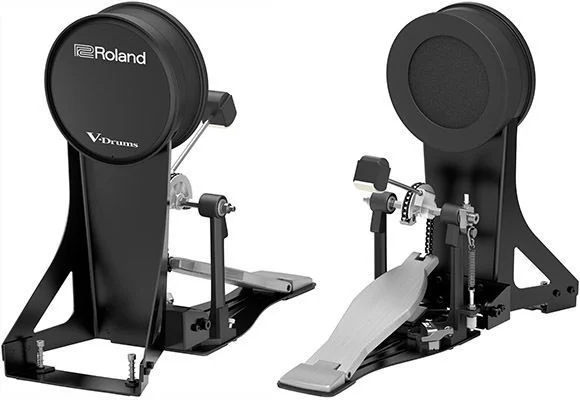 The tower-style KD-10 features an adaptive playing surface that responds more like an acoustic bass drum head, providing realistic feedback for attack and dynamics. Its redesigned frame greatly reduces physical movement to minimize flexing and scooting. On a rug or carpet, it's rock solid, with spurs to anchor it in place. The KD-10 accepts single or double pedals, so whatever style of music you're into, this pad delivers.
VH-10 hi-hat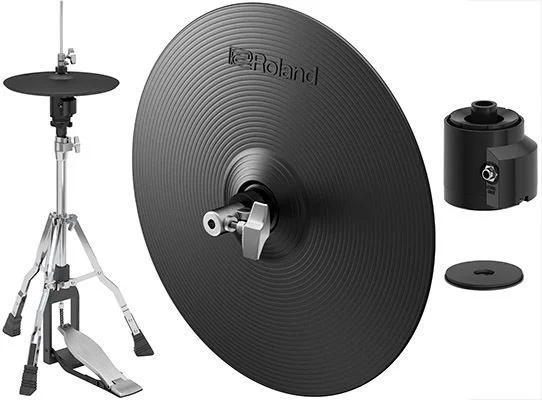 Mount this advanced 10″ hi-hat pad to your favorite hi-hat stand (not included) using the included clutch and trigger base, and the VH-10 rewards you with realistic pumps, splashes, and closed-to-open contrast. Its dual-trigger system is able to capture nuances that many other electric drum kits miss. And its textured playing surface reduces acoustic volume to keep practice and performances quiet.
Specification:
Roland TD-17KVX V-Drums Electronic Drum Set
General
Specification
| | |
| --- | --- |
| Total Number of Pads | 3 x cymbal pad, 5 x drum pads |
| Included Snare/Tom Pads | 3 x PDX-8 Dual Trigger Mesh Toms, PDX-12 Dual Trigger Mesh Snare |
| Included Kick Pads | KD-10 Kick Trigger Pad |
| Included Cymbal Pads | 1 x CY-13R 3-way Trigger Zones, 12" VH-10 Dual Trigger Hi-hat Cymbal, 2 x 12" CY-12C Dual Trigger Pads |
| Included Drum Module | TD17 Drum Module |
| Number of Drum Kits | 50 Preset, 50 User |
| Number of Instruments | 310 Instruments |
| Effects | 3-band EQ, 30 x Multi-effect, Ambience, Muffling, Snare Buzz, Strainer, Tuning |
| Module Trigger Inputs | 1 x DB-25, 2 x 1/4" (crash 2, aux) |
| Module Analog Inputs | 1 x 1/8" (mix in) |
| Module Analog Outputs | 2 x 1/4" (master out) |
| Headphones | 1 x 1/4" |
| Module MIDI I/O | Out/USB/Bluetooth |
| Other I/O | Bluetooth 4.2 (audio streaming/MIDI) |
| USB | 1 x Type B (stereo in/out) |
| Included Hardware | MDS-COM Stand |

Roland TD-17KVX V-Drums Electronic Drum Set