Roland GP-607 PEL Digital Grand Piano
Classic mini grand digital piano, designed for the living room
Latest SuperNATURAL Piano Modeling technology for a rich, living sound
Authentic grand piano touch from the new PHA-50 Progressive Hammer Action Keyboard with Escapement, which combines the look and feel of wood with the durability of modern materials
Built-in 4.1-channel multi-speaker system (four speakers/one woofer) for powerful sound projection, as well as music playback from a smartphone or tablet via Bluetooth
Headphones 3D Ambience technology for natural, realistic sound when practicing privately
MIDI over Bluetooth for connecting to a world of exciting apps such as Roland's Piano Partner 2, which encourages daily piano learning and makes practice fun
Lightweight and maintenance-free
Two elegant finishes to complement your living room: polished ebony or polished white
Roland GP-607 – An Elegant Mini Grand for Your Home
Have you been thinking about a small grand piano for your home but are put off by its cost, size, and maintenance requirements? Enter the Roland GP607 Digital Mini Grand. The GP607 has a curvacious cabinet that conveys all the elegance of a baby grand, but it occupies considerably less floor space. Roland's PHA-50 keyboard with escapement gives you authentic feel and touch responsiveness, while their acclaimed SuperNATURAL modeling technology replicates the entire sound generation process of an acoustic piano, including cabinet and string resonance, for a rich and complex sound that responds naturally to your playing. And although it sports a traditional appearance, the GP607 is packed with cutting-edge tech, such as Bluetooth connectivity that lets you wirelessly stream songs from your phone or tablet through the piano's powerful 4.1 multi-channel speaker system, filling your room with rich, transparent sound.
Authentic grand piano performance for any skill level
In the GP607, Roland's renowned SuperNATURAL Piano Modeling engine delivers supremely authentic acoustic grand piano sound, that, together with the expressive touch of the instrument's PHA-50 keyboard, provides a playing experience that will satisfy even the most seasoned pianists. But the GP607 is also perfect for beginners, with a bevy of educational features that include wireless connection to online apps that keep the piano student motivated and constantly improving. A graceful mini grand piano that nurtures your family's musicality, the GP607 brings elegance, beauty, and expressive piano performance into your home. These qualities, along with its manageable size, weight, and cost, also make the GP607 an ideal piano for educational facilities, small concert stages, and houses of worship.
A premium sound system for playing and enjoying your music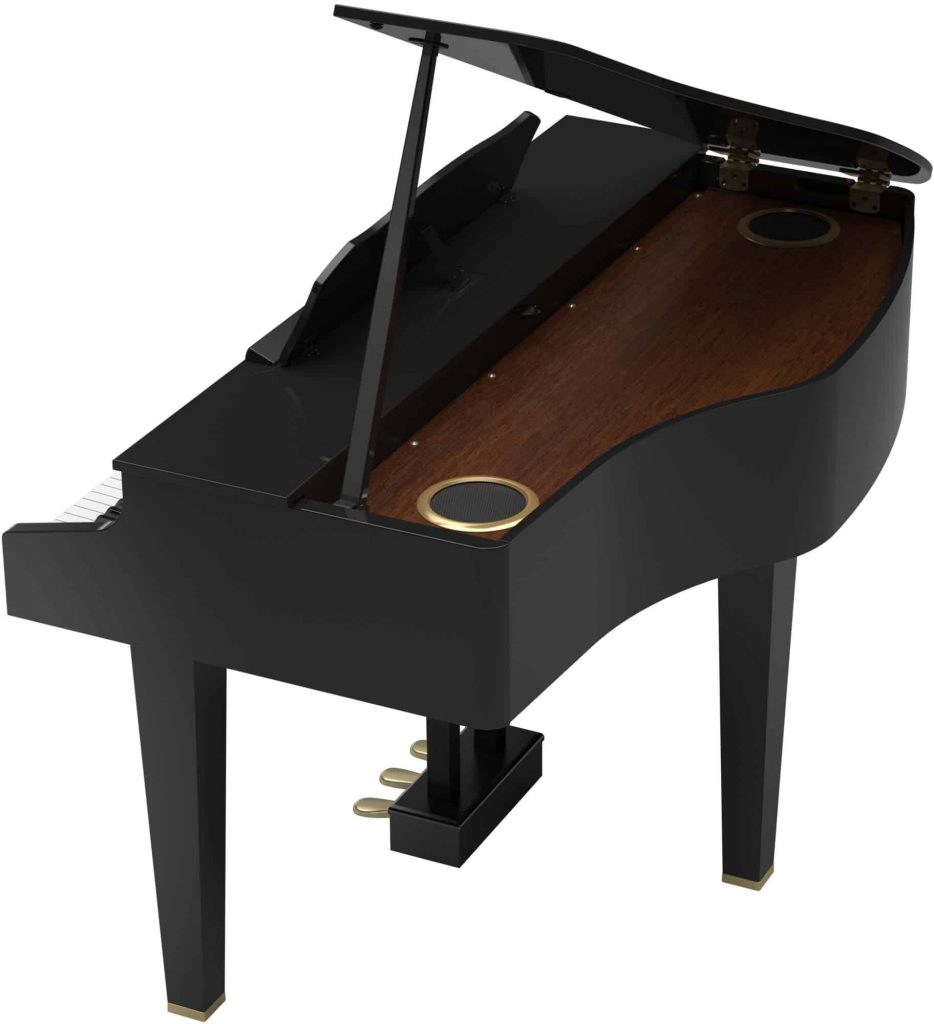 Whether you're in the mood make music — or just want to kick back and enjoy listening, the GP607's high-quality onboard speaker system is ready to fill the room with amazing sound. When you're playing, its 4.1 multi-channel speaker system delivers your notes with richness and clarity. When you're relaxing with friends and family, its Bluetooth audio functionality turns the piano into a great-sounding hi-fi, wirelessly pairing with your smartphone or tablet and playing your favorite tunes and playlists through the speakers. There's even a dedicated Apple Watch app that lets you control the piano's internal song library from the comfort of your easy chair.
The look and feel of a traditional grand — without the hassle
A traditional grand piano undoubtedly makes a statement in a living room; but its considerable cost, massive weight, and required maintenance can make ownership a labor of love. With its elegant polished ebony finish, the Roland GP607 gives you the classic look of an acoustic mini grand along with ultra-realistic sound and playing feel. Plus, it's always in tune, and its lightweight cabinet is effortless to move around your home to determine the perfect placement.
Celebrate the joy of music with onboard educational features
At Sweetwater, music truly is the universal language, and it brings joy into our lives every day. It's been proven that learning the piano is beneficial to humans — but it requires time, work, and dedication. The Roland GP607 gives pianists a fun, innovative alternative to conventional book-oriented piano courses with its built-in educational features. Jam along with the onboard songs — and you'll be laying the groundwork for joining a band or orchestra. Twin Piano splits the keyboard into two identical key ranges, letting student and teacher play side-by-side. The GP607's onboard metronome helps you develop accurate timing, while the built-in song recorder lets you capture what you've been working on to instantly appraise your progress. There's also audio and MIDI playback from a USB memory stick, plus integrated Bluetooth MIDI functionality that lets you wirelessly connect to online apps such as Roland's Piano Partner 2, and also access song libraries, digital sheet music, and more. The Roland GP607 makes practice a joy, not a task.
Roland GP607 Digital Mini Grand Piano Features:
Classic cabinet styling will elevate any room in your home
SuperNATURAL Piano modeling engine delivers authentically rich grand piano sound
Realistic grand piano touch response from Roland's PHA-50 Progressive Hammer Action Keyboard with Escapement
PHA-50 keys combine the look and feel of wood with the durability of high-tech materials
Onboard 4.1-channel Acoustic Projection multi-speaker system for powerful sound projection, as well as Bluetooth playback from smartphone or tablet
2 x 4.75″ Spatial speakers, 2 x 2″ Nearfield speakers, 1 x 7.875″ Cabinet woofer
3D Ambience headphone technology with natural sound for private practice
MIDI-over-Bluetooth connects you to a world of apps such as Roland's Piano Partner 2
307 onboard sounds; 384 notes of polyphony
Progressive damper pedal (continuous detection), Soft pedal (continuous detection/function assignable), Sostenuto pedal (function assignable)
Lightweight and maintenance-free
Includes piano bench

Roland GP-607 PEL Digital Grand Piano