Roland GO LIVECAST Live Streaming Studio for Smartphones
 Controller – MIC knob, PAD knob, LINE IN knob HEADPHONE knob

Compatible with Twitch, Facebook Live, YouTube, and other major streaming platforms

Skin filter, in-camera mirroring, automatic portrait/landscape switching, and more

Control smartphone cameras, trigger media, and adjust levels as you stream with intuitive, hands-on controls

Three microphone input options for great vocal sound: onboard microphone with reverb effect, plus XLR input with phantom power and combo jack for using the microphone on your headphones

Check viewer comments directly in the app while streaming

Accessories – Leaflet "Quick Start" , Leaflet "USING THE UNIT SAFELY" Lightning to USB Micro-B type cable , USB Type-C(TM) to USB Micro-B type cable USB Type-A to USB Micro-B type
Now a days it is easy to stream live content with your smartphone, but making your broadcasts look professional takes more effort, That's why Roland has introduced GO:LIVECAST, a Live Streaming Studio for Smartphones, a simple and affordable gadget for live webcasting.
Easy to Use Streaming Studio for Your Smartphone
Livestreaming has become incredibly popular in recent years. People of all kinds are sharing their talents for video games, makeup, cooking, animal training, and the ever-popular battle royale, Fortnite. Getting in on the streaming action usually involves buying a slew of expensive A/V equipment and a beefy computer, but what if there was a better way? The GO:LIVECAST Smartphone Streaming Studio from Roland makes it easy for creators of all kinds to share their content right from a smartphone or tablet. Simply plug it into your device and gain hands-on control over your camera, sound effects, video effects, external microphones, and more. This affordable interface takes all the hard work out of creating a professional-looking stream and is compatible with all major streaming platforms. Take it from Sweetwater: the Roland GO:LIVECAST Smartphone Streaming Studio is a simple and affordable way to rival the pros and take your stream to the next level.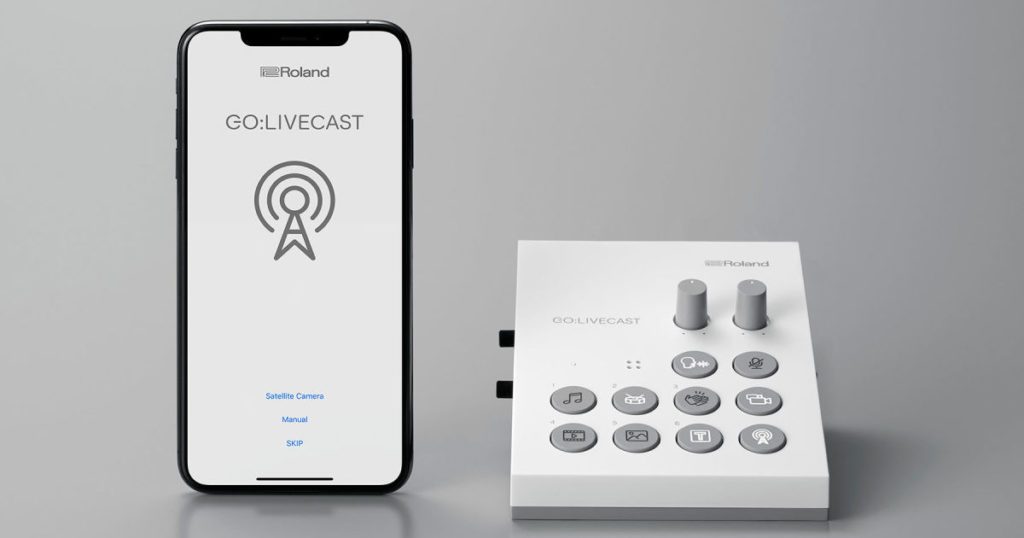 Plug 'n' play simplicity
The GO:LIVECAST is super simple to use. Just plug in your smartphone, connect your headphones, and you're ready to go! If you don't have any external gear, you can still stream, thanks to the built-in mic that delivers high-quality audio with optional reverb. For more impressive audio, plug in a mic, guitar, or synth into the combination TRS/XLR input. The GO:LIVECAST has an intuitive control layout. With a single touch, you can start your broadcast, play music, launch sound effects, and more. The two-volume knobs and a mic-mute button give you easy control over the mic and media levels.
Compatible with major streaming platforms
When they designed the GO:LIVECAST, Roland made sure that all streamers could use it on their favorite streaming platform. No matter where you stream, you can use the Roland GO:LIVECAST because it's compatible with Twitch, Facebook Live, YouTube, and other major platforms. If you use multiple platforms, the GO:LIVECAST app has it handled. The app logs directly into all of your streaming accounts, so when it's time to go live, you just have to pick a platform to launch the stream. A helpful scrolling window shows your chat in the app in real-time.a
A Mini Broadcast Studio at Your Fingertips
Via a simple, customizable control layout, the GO:LIVECAST hardware lets you direct your live presentations and stay fully engaged with your audience. All it takes is a touch to start broadcasting, play music, display titles, launch photos and videos—or even trigger some applause at the end of the show! Knobs provide quick control of mic and media volumes, while the mic-mute button will keep coughs and unwanted sounds out of your livestream.
Specification:
Roland GO LIVECAST Live Streaming Studio for Smartphones
Size and Weight
| | |
| --- | --- |
| Depth | 5.4" |
| Height | 2" |
| Weight | 180 g |
| Width | 4.2" |
Specification
| | |
| --- | --- |
| Video Inputs | 1 x USB Micro-B (iOS/Android smartphone) |
| Audio Inputs | 1 x 1/8" (line in), 1 x Internal Mic, 1 x XLR-1/4" combo (mic) |
| Headphones | 1 x 1/8" TRRS (headphone/headset mic) |
| Effects | Applause, Beauty Filter, Drum roll, Laughter and additional sound effects, Reverb |
| Software | GO:LiveCast App (iOS 13 or later, Android 9 or later) |
| Power Source | 5V USB Micro-B Power Adapter (cable included, adapter sold separately) |

Roland GO LIVECAST Live Streaming Studio for Smartphones