Roland Fantom-6 Music Workstation Keyboard
Seamless workflow with no confusing modes

Expandable sound engine delivers authentic electronic and acoustic sounds

Fresh hybrid sounds combining modern PCM, virtual analog, and a routable analog filter

V-Piano technology for stunning realism and expression

Deep integration with DAWs and softsynths and 16×3 stereo audio interface
Since 2001, Roland's FANTOM workstations have been on the cutting edge of keyboard technology. Now Sweetwater is delighted to present to you the FANTOM-6, a new breed of keyboard workstation that will supercharge your music production and live performances. Equipped with inspiring production tools and deep computer-integration, FANTOM-6 is your creative hub, designed to provide an intuitive, streamlined, and unconstrained music creation process. Its advanced, expandable 16-part multitimbral sound engine delivers Roland's premium acoustic and electronic sounds, along with the control to combine, morph, and sculpt them any way you want. The FANTOM's purposeful design is built into a roadworthy metal chassis with high-grade components and Roland's flagship aftertouch-sensitive 61-note keybed.
A formidable sonic arsenal
Fortified with an arsenal of inspiring, authentic electronic, acoustic, and hybrid sounds; the powerful, versatile, and expandable FANTOM sound engine draws on decades of industry-leading Roland technology, letting you combine various synthesis and sampling technologies along with FANTOM's onboard analog filter for new cutting-edge sounds and take advantage of new sound expansions and capabilities as they become available. FANTOM nails coveted instruments from Roland's vaunted legacy of genre-defining synths, while blazing new synthesis frontiers. At FANTOM's core are Roland's custom Behavior Modeling Chips, powering the instrument with smooth, precise control, massive polyphony, and full patch remain for seamless transitions.
Creativity without compromise
With no confusing modes, technical limitations, or sonic compromises to derail your creative process, FANTOM-6 fuels your creativity with its fast, fluid workflow. FANTOM's creative process facilitates and enhances the way modern musicians work by providing intuitive compositional tools, instant-recall creative environments, and deep integration with your DAW. Forget about having to remember which features work in which mode — FANTOM is always in Creative mode.
Make the Scene
Whenever you enter your creative zone, FANTOM is ready with custom creative spaces called Scenes that contain your sounds, clips, patterns, and performance layouts — all triggerable with a single touch. A Scene can be a complete song, a segment of a song, or merely a starting point with your sounds arranged just the way you want them. You can chain Scenes together or swap them out instantly — with no glitches or gaps.
Updated classic pattern sequencer
FANTOM is a self-contained, 16-part multitimbral music composition platform designed for rapid creation and fluid arrangement. You can create patterns on FANTOM in a variety of ways, including step- and real-time polyphonic sequencing or the TR-REC pattern sequencer — ideal for rhythmic parts — as on Roland's iconic drum machines. The cornerstone of dance music is the step-sequencer, none more classic than the 16-step TR-REC found in drum machines like the TR-808, TR-909, and the TR-8S. FANTOM's onboard TR-REC sequencer is completely updated with sub-steps for ratcheted parts, motion control for per-step automation, and support for chords.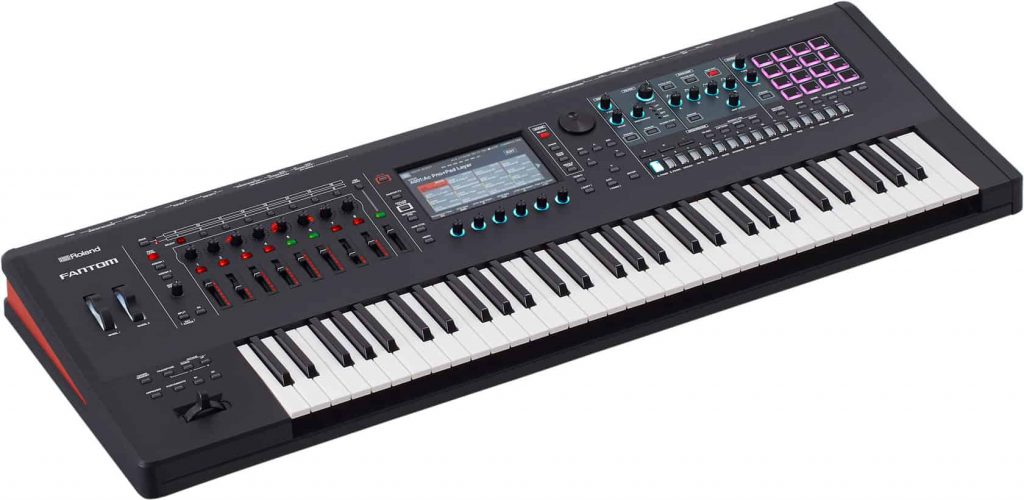 Clip-based sequencing
Also at your fingertips are 16 RGB performance pads, real-time recording with piano-roll editing, and a grid for recording and launching clips. You can use any or all of these tools at any time to realize your musical goals. Build up tracks easily and quickly by arranging groups of clips. Record drums, bass lines, pads, and melodies into clips and trigger them separately or in Scenes. This is an expeditious way to compose — and perfect for triggering backing tracks onstage.
Sonic superpower
The FANTOM synth engine is based on Partials. Each Partial comprises a discrete synth voice, complete with oscillator, filter, amplifier, dual LFO, and effects. You can pack up to four Partials into a single Tone, and up to 16 Tones in a Scene, which makes possible mind-bogglingly complex layers, splits, and sequenced parts. With all this firepower, you can focus on creating music, not conserving processing power. You won't have to concern yourself with how many effects you can use or if you can change sounds seamlessly without affecting complex patches. With the massive power available in FANTOM's engine room, you can run all 16 parts concurrently with all available effects and full patch remain.

Stunningly authentic sounds
To achieve its stunningly authentic acoustic and electronic sounds, FANTOM runs digital modeling, sampling, and analog synthesis technologies simultaneously. You can sample your own sounds and trigger up to two gigabytes of loops and one-shots from the onboard performance pad matrix. For extra warmth and grit, there's also an analog filter that's completely routable, and you can even mix your favorite soft synths with FANTOM's internal sounds. For countless composers cross-genre, the piano is the heart of the creative process. FANTOM incorporates Roland's advanced V-Piano technology that meticulously models the components of the instrument and lets you fine tune them to craft pianos that match your personal taste and respond just like their acoustic counterparts.
Uber playability
After sonic quality, there's nothing more important than playability — the way an instrument feels under your fingers; how it helps you express your musical intentions. From its silky-smooth and responsive keyboard action to its bevy of performance controls, FANTOM-6 focuses on the playing experience with Roland's finest semi-weighted keyboard action to date — making it an instrument that begs to be played. Solid, precise, and supremely playable, the FANTOM-6 keyboard conveys every expressive nuance of your playing. And it's also equipped with something serious synthesists covet: aftertouch. With FANTOM-6, you can use assignable aftertouch to add a bit of tasty vibrato or other modulation or to your sound without taking your hands off the keys. And speaking of modulation…

Add motion to static sounds
Low-frequency oscillators add motion to static sounds. Having more LFOs gives you more modulation possibilities and more ways to explore new sonic vistas. With two LFOs per Partial, four Partials per Tone, and 16 Tones per Scene, FANTOM gives you an astonishing 128 LFOs per voice to work with. FANTOM's Step LFOs have 16 steps of beat-synced automation with 35 curve choices per step. This lets you easily create long evolving passages, animated modular-synth-type textures, and immersive soundscapes with deeply intricate movement.
Intuitive hands-on control
To control a workstation this powerful, FANTOM offers a cockpit packed with an array of knobs and faders for immediate, intuitive real-time hands-on control, with high resolution for creamy-smooth filter sweeps and parameter fine-tuning. FANTOM even features a dedicated synthesizer section with oscillator, filter, and envelope controls, along with buttons and pads for triggering and sequencing. For enhanced expression, FANTOM lets you connect 3rd-party USB controllers to any of its three USB ports. And while FANTOM provides enormous creative potential, you may also want to integrate analog synths or drum machines into your rig. FANTOM features two sets of CV/Gate outputs so you can sync tempo or play them from FANTOM's keyboard or its pattern sequencers.
Masterful connectivity
While FANTOM is jaw-droppingly powerful in and of itself, its beastly power grows exponentially when connected to other equipment such as computers or analog synthesizers. FANTOM's two mic inputs and onboard 16×3 stereo audio interface let you record studio-quality sound and route it to and from your DAW. FANTOM is also a masterful MIDI control surface for your DAW and plug-ins, letting you adjust parameters right from FANTOM's touchscreen. Mix and layer soft synths with FANTOM's internal sounds, and route them through FANTOM's analog filter section.
Your music. On steroids.
The more you get into your FANTOM, the more you'll appreciate its superior design and the thoughtful details. From its customizable RGB-lit controls and buttons to the subtle curvature of the top panel that lets you see rear-connection legends from your playing position, FANTOM is built for one purpose: to supercharge your musical creativity. Whether it resides in your home or commercial studio or is part of your touring rig, FANTOM is built for the long haul with a robust metal chassis, premium components, and balanced connections to stand up to the rigors of professional use. The Roland FANTOM-6: it's the ideal vehicle for your musical explorations.
Roland FANTOM-6 Features:
16-part multitimbral music workstation keyboard
Premium 61-note semi-weighted keybed with aftertouch
Fluid workflow no confusing modes, technical limitations, or sonic compromises
Expandable ZEN-Core sound engine delivers authentic acoustic and electronic instruments
Modern hybrid sounds combining PCM, virtual analog, and routable analog filter
Roland's V-Piano technology for breathtaking realism and expression
Polyphony: ZEN-Core: 256 notes; V-Piano Engine: unlimited
Scenes contain parameters for all 16 layers, plus patterns and effects
Deep integration with your DAW and plug-ins
Onboard 16×3 stereo audio interface
2 XLR-1/4″ combo mic/line/instrument inputs
Clip-based multitrack sequencing with pattern recording and triggering
Updated TR-REC sequencer inspired by classic Roland drum machines
High-resolution controls with dedicated synth control section
Massive DSP for robust polyphony and seamless patch transitions
LCD touchscreen
128 LFOs
Onboard FX engine
Balanced XLR main outputs; 6 x 1/4″ outs
MIDI In/Out/Through
USB-to-Host; USB-to-Device; 3 external device USB ports
2 sets of CV/Gate outputs
4 pedal jacks

Roland Fantom-6 Music Workstation Keyboard